FROM THE VICE CHANCELLOR'S DESK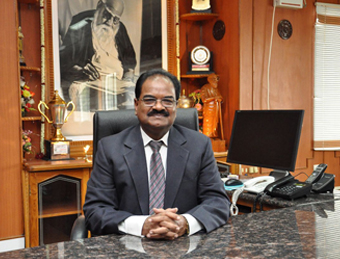 Prof. Dr. C. Swaminathan
Vice Chancellor
I have, for some time, wanted to share with you my thoughts about the developments and achievements witnessed by the University after I took over. As the completion of a year of my tenure is imminent, my mind has become prone to seek stock taking. All through my career reviews, in whatever form, have never failed to provide a perspective and a sense of direction. And I am convinced that it is time to go for one.
In the previous conversation from the Vice Chancellor's Desk, I remember starting with expressing my full confidence in the potential of Periyar University. I stand absolutely vindicated in my claim as the University has proved itself by securing the "A" grade from the National Accreditation and Assessment Council and that too with the impressive CGPA of 3.15. This has been possible first because of the inherent potential and second Team Periyar sinking its differences to work as a single dedicated unit, a wish I had expressed from here last. The second aspect has given me tremendous hope for the University as nothing brings success as team spirit does. Scenes of my team waiting, expecting to face the unexpected during the grilling by the NAAC Peer Team are fresh in my memory and they may stay there permanently etched. Now that the value of such work is realized, our task is to remain focused and continue to stay together.
On the other claim about creating a "symbiotic relationship" between the University and the affiliated colleges too, significant progress has been made. There is now better communication, enhanced interaction and understanding of common goals. This is the platform on which we have to build meaningful interfaces that would finally help us succeed in ensuring lasting domain strengths in our graduates, postgraduates and researchers. In my opinion, it is the discontinuity between the different phases of higher education that has created a situation where majority of our graduates are being branded unemployable. But this situation notwithstanding, we have made a good beginning and with the support of all concerned it should be possible to show results soon and probably become an example to follow. Steps have been initiated to identify areas that need immediate curricular innovations and the momentum will be sustained. It is a long way but before the end of my tenure, I intend to leave a path on which it should be sensible to travel further.
As for the question of promoting research publications, moves are already afoot. Training has been given to young faculty to write research papers and project proposals. Publishing two papers on an annual basis in journals of repute has been made mandatory. The expected quantum of publications is fixed at the individual, departmental and cluster-school levels. The clustering of the departments is done with a view to promote creation of interdisciplinary knowledge. Disciplinary cloistering and the impulse to be protective of one's subject turf have hitherto diverted us from interdisciplinary aspirations keeping us off global trends. It is high time we woke up and met the challenge. The ability to link one's domain knowledge to other disciplines is at a premium especially in an era when boundaries are collapsing and disciplines are intersecting. The beginning we have made in this respect augurs well. Here again, I would like to alert us to the long road ahead.
While there is no denying the inevitability of having to publish to have presence at the national and international levels, we must act with a sense of realism. It is a fact that we have had a system that has prioritized oral delivery in a classroom or elsewhere leaving no scope for recognition of capacities and skills needed for writing. This condition has prevailed for a considerable length of time to create a situation where we are compelled to do intellectual policing to detect and eliminate plagiarism. While there is no second opinion about arresting the practice of intellectual dishonesty, I would support an approach that is diagnostic rather than being judgmental. I think that it is our responsibility to give the young scholars capacities and skills needed for writing at levels mandated by journals of repute. The thought has been on my mind for quite some time now and I am earnestly looking for expertise on the identification of which the facilities required will be put in place without delay. A modest beginning has been made with the introduction of technical writing components in select syllabi with the aim of arriving at sharable modules on a large scale. I have already indicated the intention to establish an exclusive Centre for Writing at the University. Even in the developed countries, universities have established Writing Centres to skill their scholars and students. Our faculty have been advised to study successful models elsewhere and prepare a blueprint. Yet another tough task this one but we are at it and have no inclination to retreat. Let me say this is another dream I want to convert into reality before taking leave of Periyar.
In addition to sustaining and promoting research in conventional higher education, it is decided to identify areas of research that should be capable of addressing the problems faced by the industry and other sectors in the region. Promising beginnings are in place in some of the departments. A chasm has existed for too long between the conceptual-theoretical and the practical, between gnosis and praxis. We are determined to make research yield actionable insights for the betterment of society. This is a bold statement against the background of the conditions that prevail, but we have the conviction and the talent pool to show results.
Funds are fuel for research. Many a research project has failed because of lack of funds. Serious thought is devoted to identification of funding sources besides the traditional ones. I am having discussions with personnel from the industry and philanthropists to seek avenues to augment available resources.
Faculty are encouraged to visit universities abroad so that they will identify and bring with them the best practices from those universities. I have decided to hold sessions in which the faculty returning from abroad will share their experiences with the other faculty and scholars in order to ensure information dissemination and awareness enhancement. The interest shown in skilling students is encouraging as evidenced in the proposals submitted to start B.Voc. programmes under the KAUSHAL scheme. But it is limited and I would definitely expect much greater response when the opportunity knocks at the door next time.
There are steps contemplated in the direction of design of syllabus and curriculum that would carry precisely defined course objectives, desired learning outcomes with the indication of resulting skills. Once finalised, the template is expected to positively influence the teaching-learning process. This is a long term plan unlikely to fructify fully in the near future but I can assure you that imprints to build on would be left during my stay at the helm. Our faculty have already started interacting with relevant industry to create an effective interface. I have personally ensured that the industry member on the Boards of Studies for the University Departments has the necessary expertise.
The university's role in society is never a constant. It has to take into account the changing needs of the times and people. Keeping this in mind, new programmes have been designed. The postgraduate programmes in Textiles and Apparel Design and Energy Science are offered from the academic year 2015-2016. More such programmes are on the anvil.
On the administrative side the reforms made and the technologies introduced have paid rich dividends. We have all seen the turnaround in the publication of the examination results in record time. I promise that improvement would be continuous. No effort has been spared in making the administration responsive to academic and research needs and the transformation is already noticeable. The process of admission has been rationalised and simplified. The entire process is completed at the department excepting only the formal approval by the authorities. I am sure this decentralisation will make hassle and delay things of the past.
Everyone entering the campus after a lapse of time is stunned by the campus uplift. Lots of people have spoken to me about this with amazement. Aesthetics apart, the way we keep our public spaces is what tells the world who and what we are. Where ever I have worked, this aspect has had top priority because I strongly believe there is an essential connection between landscape and mindscape.
There will be more happy news when I reach you next from here. Thanks.