VICE CHANCELLOR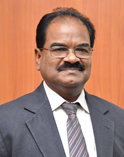 Prof. Dr. C. Swaminathan
Vice Chancellor
Dr.C.Swaminathan, well known for his institution-building abilities and keen interest in the upliftment of higher education, was born to Thiru. A. Chinnappan and Thirumathi C. Ponnammal at Thingalur near Erode. Hailing from an agrarian background, he had his schooling at Thingalur Government High School. He then went on to do his B.A. at C. N. College, Erode and M.A. at Pachaiappa's College, Chennai. Continuing his studies, he obtained M.Phil. degree from the University of Madras after which he took up a faculty position as Lecturer in History at CBM College, Coimbatore in 1980. The research interest in him would make no allowance for any rest inspite of a demanding teaching career and he went on to get his Ph.D. from Bharathiar University.
Dr.C.Swaminathan, a leader who prefers responsibilities over privileges, naturally courted challenge. Taking over the reins of Kongu Arts and Science College, Erode as its Founder Principal, he successfully transformed a fledgling college with a student strength of 100 and a faculty of mere 7 into a pioneer institution. Today, the college stands as a frontline college in the region with a consistently large intake. Assuming charge as the Principal and Secretary of Bharathidasan College of Arts and Science Erode in 2008, he lent his magic touch yet again to see the college increase its strength fourfold in a short span of two years. He also served as a Member of the Senate and Syndicate of Bharathiar University and his contribution in those capacities to the development of the University is highly significant. Apart from building institutions, he had successfully guided research at M. Phil. and Ph.D. levels. In recognition of his contribution to the field of higher education, he was assigned the responsibility of guiding Bharathiar University as its Vice Chancellor.
Under his stewardship, the image of Bharathiar University was significantly enhanced by way of augmenting infrastructure, recruiting young bright researchers with exceptional attainments and mobilizing large funds from various national and international agencies. He was instrumental in establishing collaboration with universities in the USA, UK, Japan, Singapore and Malaysia. He implemented several structural reforms pertaining to syllabus, curriculum development and examinations. The School of Distance Education witnessed vibrant functional modifications that saw the school grow in leaps and bounds taking the student strength beyond 1,00,000. Popularizing science among school students and conducting a space festival in collaboration with the NASA, USA are his other significant achievements. The latter also went a long way in enhancing science awareness among the school children of the states of Tamil Nadu, Kerala and Karnataka.
At Periyar University as its sixth Vice Chancellor Dr.C. Swaminathan has brought about a remarkable turnaround. The problem of delayed publication of results that had been the bane of the University earlier was addressed with a sense of urgency. The revamping of the system and introduction of technology helped put in place a process that saw publication of results in record time i.e. within 15 days of the date of last examination. In the recent semester examinations results were communicated via SMS to the students directly, a step that earned widespread appreciation from all the stakeholders. On his agenda are quality publications, effective teaching-learning practices and research that can be converted into beneficial applications. To guide the university to keep abreast with global trends, Dr.C. Swaminathan has clustered the departments of the University into schools to promote interdisciplinary research. Another milestone in the first year of his tenure is getting Periyar University accredited with 'A' grade by the NAAC. Hardly did anyone take it seriously when he declared 'A' was what the University had to get. He went about identifying talents, rallied them, gave specific responsibilities, promoted team spirit and provided an overall perspective which everyone understood. Under his guidance three more departments have secured SAP status and the departments of Textiles and Apparel Design and Food Science have been approved by the UGC to run Bachelor of Vocation programmes with financial assistance to the tune of Rs. 1.70 crores. Thanks to his leadership that faculty, staff and students now know the strength of the system and are highly motivated.
Precise, shrewd and systematic, he is also compassionate and considerate. His experience both as an educational administrator and a teacher-cum-researcher in Humanities makes his talents a synthesis of scientific rigour and humane considerations. Affability, easy accessibility, calm demeanour, composure and handling pressure with ease are his forte. Not one, content to rest on his laurels, he is determined to take higher education to greater heights. His multi-faceted talent set and broad spectrum of experience will no doubt help him reach his goal. Hard work, spirit of dedication and the ability to form teams to achieve goals have been the hallmark of Dr.C. Swaminathan who effortlessly combines informality and friendliness with astute leadership.